May – June 2013
May
30
Thu
2013
Triad Monthly – STRAIGHT TALK FOR YOUR BUSINESS – AVOID LOSING A FORTUNE ON YOUR BUSINESS – Answers & Experts!

@ Nussbaum Center - Greensboro NC 27406
7:30 am – 9:30 am
Click to :  REGISTER – STRAIGHT TALK Monthly for your business
Attend monthly STRAIGHT TALK events:
1.  you are committed to your business and NEED answers to business questions from experts more quickly.
2. you realize lack of the correct information to DECIDE is costly and HIGH RISK to you and your business.
COMMUNICATION – NETWORKING  MARKETING – OPERATIONS  – You will GET BETTER, Learn  & Earn with
An All-Star line-up:
Angel Guerrero- AS Web Pros- – MESSAGING & TOTAL MEDIA THAT WORKS!
                                  Recent Piedmont Business Ethics Award Winner
Delta Mitchel- Market USA -  BRANDING & MARKETING STRATEGIES THAT WORK
Mark Zajac- Team Triad Coaching -  5  DANGERS THAT KILL YOUR PROFITS
Sandra Griffith- I.T. Works – NETWORK YOUR BUSINESS EFFECTIVELY OR LOSE REVENUE
William "Bill" Brown - BD Brown Communications LLC. – COMMUNICATION & RE- BRANDING
Chisa Pennix- Brown- Lady Bizness & Encore Event Center – Show Up & Show Out
READ MORE- REGISTER NOW  & Receive FREE Gift from North Carolina Zoo and Eagle Charities as well as tickets to future training that works for your business.

Jun
16
Sun
2013
2013 3rd Annual – Cake Tour – Eagle Charities & Support 4 Your Dreams

@ 2013 Cake Tour
1:00 pm – 6:00 pm
2013 Cake Tour – Summer FUN !
Eagle Charities Supports: In support of Josephs House Eagle Charities will be participating in the 3rd Annual Greensboro Cake Tour on June 16th. The Cake Tour has become a Greensboro Summer fun event with much media exposure and for a worthy cause.
BUY Cake Tour self Guided Ticket

:
Sunday June 16
Take a Tour of the Downtown Greensboro Area
Taste CAKE made by local bakers and National Cake Baking Celebrities.
1 pm to 6 pm
Tickets are $10 in advance Register with Eagle for a unique special gift!
Advance Ticket Sales will end June 14!
$15 the day of the event
$12 if you want to ride the Motor Coach (advance tickets only) – LIMITED
Buy Cake Tour self Guided Ticket:
Event Sponsored By:
Support 4 Your Dreams–Business, Health LIFE!  www.support4yourdreams.com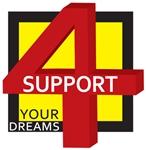 www.facebook.co
m/eaglecharities
Transportation provided by D.A.P.T.C.O Motor Coach
http://www.daptcochartersandtours.com/